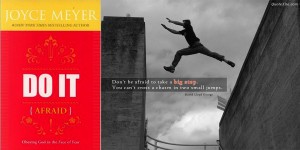 Do It Afraid
By Joyce Meyer
"Do it Afraid" is petite book with a punch. It's a great quick read which provides encouragement to step toward obeying God or His call on your life . It a real confident booster.
For God hath not given us the spirit of fear; but of power, and of love, and of a sound mind. 2 Timothy 1:7
The book is filled with scriptures and examples of the author's own life,which gives us insight to overcome the enemies tool of fear.
This book is great for a new believer or for some who simple needs a nudge to take the next God step towards their destiny.