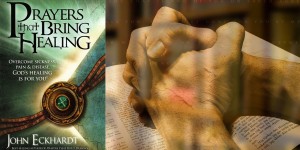 In Community
By John Eckhardt
"Healing accompanies the kingdom message…not only should expect to be healed, but you should know you are to pass the healing on to  all those around you. That is true kingdom living" Pg 2-3. Prayers That Bring Healing by John Eckhardt
I thank Holy Spirit for every inspiration. One of the thinks I do is take a look at the first century church through scripture and through history. The early church was based on community; there was the church in Corinth, The church in Ephesus, The church in Philipe etc. We did find a name with a founder or denominational title. What you'll find the church took care of each other as family as people, not as a name.
Healing and every other gift should flow in community. On of the things that has enriched my life is knowing believers from across the state across the globe. Each person has impacted my life so much from so far, why because the church is a more than a physical community but a spiritual community in Heaven at the right hand of God.
5 even when we were dead in trespasses, made us alive together with Christ (by grace you have been saved), 6 and raised us up together, and made us sit together in the heavenly places in Christ Jesus, 7 that in the ages to come He might show the exceeding riches of His grace in His kindness toward us in Christ Jesus. Ephesians 2:5-7
This leads me to ask the question "What can I give?" Everything shared or donated contributes to this healing. As I said in the introduction healing lead me in search of the presence of God. Still in search for the presence of God, Holy Spirit is renewing my mind to live in this Kingdom on earth.