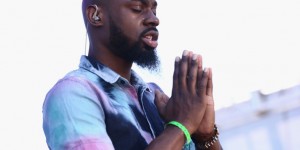 Mali Music
Fresh New Sound
Mali Music reveres and respects the power of his chosen art form. The singer, songwriter, and producer recognized music's impact at a very young age, treasuring it as a gift. At only eleven-years-old and without any formal training, he would get behind the keyboard at a local Savannah, GA church and play for hours in front of a packed house every single Sunday. For the young performer, it became about inciting physical, emotional, and spiritual change with nothing more than a beat, a melody, and a smile.
Decades later, nothing has changed on his full-length major label debut, Mali Is… [ByStorm Entertainment/RCA Records]. In fact, he's only gotten better at impacting emotions.
"I started making music so I could help put everyone at ease," he says. "Each Sunday that I came into this building, people were crying, praying, and repenting. My creativity had to be sharp to consistently come up with songs on the spot that reflected the emotion of the room. I had a responsibility early on, and I realized music could make you cry, make you dance, or even change your life."
Receiving Pro Tools and a computer as a gift for his fifteenth birthday, Mali divided his time between recording hundreds of songs in his bedroom and playing football at school. After casually making a MySpace page in 2008, he quickly developed a fervent following online. A flood of booking requests came in from around the country, and his statistics began to skyrocket. Fulfilling his fans' appetite, he released his first independent album, The Coming, selling out the pre-orders from his family's garage. Over the next year, he started playing sold out shows across the country leading up to the release of his sophomore effort The 2econd Coming in 2009. However, 2011 saw underground R&B's "best kept secret" get out.
Delivering a seismic performance at the BET Music Awards on the "Music Matters" stage, Mali effectively got the entire industry talking. He found himself meeting with superstar Akon the next morning as other executives clamored to learn more about this burgeoning phenomenon. He finally found the right home in 2013 though, signing to Mark Pitts' ByStorm Entertainment label at RCA Records—the home of Grammy Award winning singer/songwriter Miguel. After another earthshaking BET Music Awards performance and his Essence Music Festival debut that year, the mainstream wholeheartedly embraced Mali's undeniable and uplifting blend of soulful R&B, invigorating hip-hop, and inspiring lyricism.
He goes on, "I wanted to earn respect as an artist from the world before I proclaim this triumphant message. I wanted to give everybody an introduction to who I am. I've got a beautiful story to tell. There have been struggles, and there have been victories. The whole time, there was always song. That's how you get Mali Music."
Source: http://www.malimusicofficial.com/bio/
Mali Music SmartPhone & Tablet Wallpaper
---