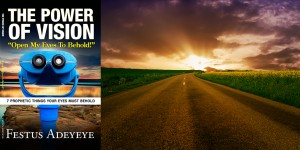 The Power of Vision
By Dr. Festus Adeyeye

The Power of Vision by Dr. Festus Adeyeye as stated is truly a "thought-provoking book"; because it challenges believers to live beyond the mundane and step into the extra ordinary. The scripture states
 "Where there is no prophetic vision the people cast off restraint,but blessed is he who keeps the law." Proverbs 29:18
The beauty about this book it uses scripture to encourage the believer to locate the God given vision that is within.
This book is recommended for the believer who is looking for purpose in life. A believer who loves the Lord, know they are could, but needs clarity towards the next step.
The Power of Vision is more than a self-help book, with the help of Holy Spirit it's a dynamic tool to bring one into their destiny.
In conclusion the author changes us to live life from the inside out as God intended us as His dear children to live.