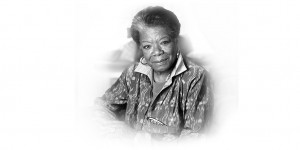 In Loving Memory of Maya
April 4, 1928 to May 28, 2014
Maya Angelou was born Marguerite Annie Johnson in St. Louis, Missouri. Her parents divorced when she was only three and she was sent with her brother Bailey to live with their grandmother in the small town of Stamps, Arkansas. In Stamps, the young girl experienced the racial discrimination that was the legally enforced way of life in the American South, but she also absorbed the deep religious faith and old-fashioned courtesy of traditional African American life. She credits her grandmother and her extended family with instilling in her the values that informed her later life and career. She enjoyed a close relationship with her brother. Unable to pronounce her name because of a stutter, Bailey called her "My" for "My sister." A few years later, when he read a book about the Maya Indians, he began to call her "Maya," and the name stuck.

At age seven, while visiting her mother in Chicago, she was sexually molested by her mother's boyfriend. Too ashamed to tell any of the adults in her life, she confided in her brother. When she later heard the news that an uncle had killed her attacker, she felt that her words had killed the man. She fell silent and did not speak for five years.
Maya began to speak again at 13, when she and her brother rejoined their mother in San Francisco. Maya attended Mission High School and won a scholarship to study dance and drama at San Francisco's Labor School, where she was exposed to the progressive ideals that animated her later political activism. She dropped out of school in her teens to become San Francisco's first African American female cable car conductor. She later returned to high school, but became pregnant in her senior year and graduated a few weeks before giving birth to her son, Guy. She left home at 16 and took on the difficult life of a single mother, supporting herself and her son by working as a waitress and cook, but she had not given up on her talents for music, dance, performance and poetry.
With the guidance of her friend, the novelist James Baldwin, she began work on the book that would become I Know Why the Caged Bird Sings. Published in 1970, I Know Why the Caged Bird Sings was published to international acclaim and enormous popular success. The list of her published verse, non-fiction, and fiction now includes more than 30 bestselling titles.
Click to download Android Wallpaper
[wpdm_file id=3]
Source: http://www.achievement.org/autodoc/page/ang0bio-1 & http://mayaangelou.com/bio/