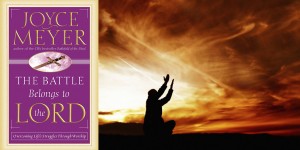 The Battle Belongs to the Lord
By Joyce Meyer
"The battle belongs to the Lord" is a simple yet powerful book by Joyce Mayer. The premise of the book is based on worship. As pilgrims on earth we are faced with diverse trials and tests to prune our character to be more like Christ.
As we are growing children our attitudes tend to want to get out of the struggle now. A quick fix to cause the problem to suddenly go away as we "Cry out to Lord". From scripture the author shows an attitudes of worship in the face of trouble because of who God is and what He has accomplished by Jesus Christ.
The author presence worship as sweet smelling savoir before God because we trust Him. However we learn this posture from the examples she takes from scripture which shows God faithfulness as His people worship. One of the main scripture she reflect on was the custom of having the worshipers doing before the Israelite army in battle.