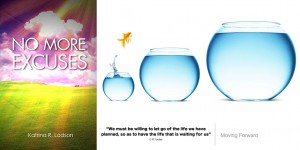 No More Excuses
By Katrina Ladson
No more Excuses is another petite yet power packed book which will get you up and going .
The wicked flee though no one pursues, but the righteous are as bold as a lion. – Proverbs 28:1
The highlight of the book references the Holy Spirit God has given believers to empower us on earth. In light of this the believer has the responsible to respond to the prompting of the Spirit. However greater emphasis is placed on nurturing our relationship with the Holy Spirit which with allow us to to lead a life of boldness.
No more Excuses would make an excellent companion to "Do it Afraid" By Joyce Meyer.